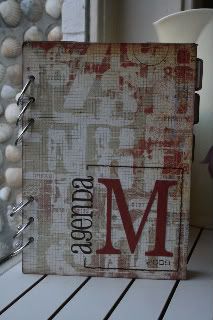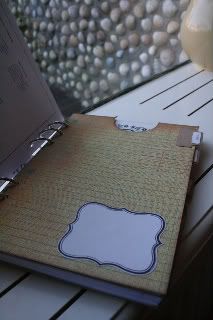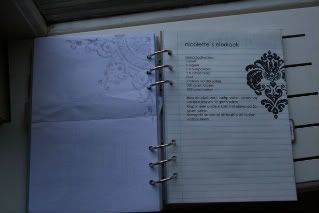 2009 Agenda
by Moniek Jannink
SUPPLIES
Paper: Basic Grey – Recess
"Principal,"
"Classmates,"
Cardstock: Bazzill Kraft
Alphabet stickers: Mustard Moon – cardstock stickers brown
Embroidery floss
Several stamps
QK Silhouette
QK tab die
Circle punch
Crop-a-dile
Chipboard
6 binder rings
HOW TO
I bought a 2009 filling for an agenda planner with 1 week on 2 pages and made the cover of 2 pieces of chipboard. The cover and pages measure 20 x 15 cm.
I embroidered a frame on the front cover and used the Mustard Moon letter stickers to make a title. I cut the large M with my silhouette.
I have made several sections in my diary for keeping notes, recipes, scrapbooking inspiration etc. I folded a piece of basic grey paper (20 x 30cm) in half, fold to the rights side, holes in the left side and glued the bottom together in order to make a pocket in which I can keep several memorabilia. I included some writing paper and embellished the papers with stamps.