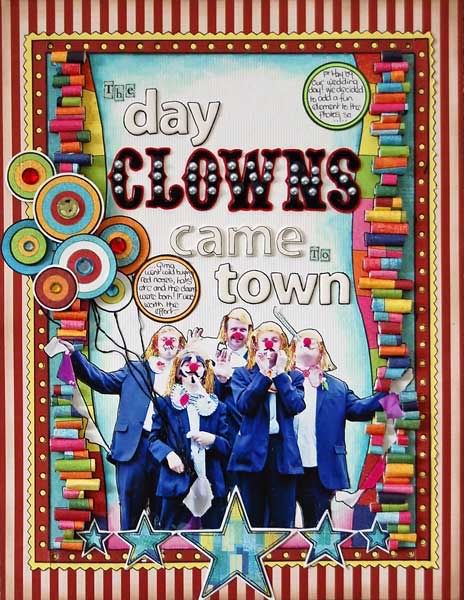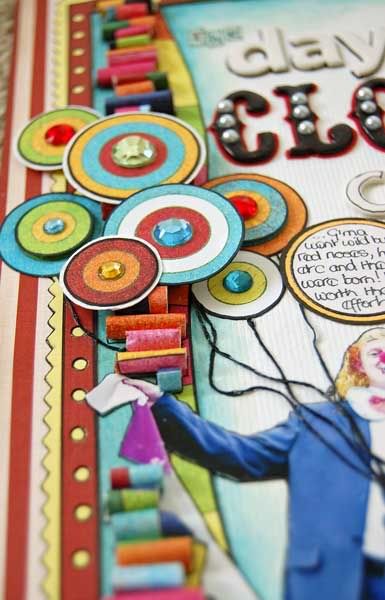 The day the clowns came to town-
by Emma Trout

SUPPLIES
Bazzill cardstock (white)
Patterned Papers: Basic Grey- Lime Rickey (Sarsaparilla, Boston Cooler and Tutti Frutti)
Blush- (Charmed) Chatterbox – (Candy Stripe)
Alphas – Basic Grey white choc chip
American Crafts Thickers
Making Memories tiny alpha (teal)
Stamp- Paper Salon Monogram builder
Ranger- Matte Accents, Black Archival ink.
Other: Acrylic paint, gems, pearls, decorative edge scissors, embroidery floss, coloured card scraps.

HOW TO
Cut cardstock to size. Add a 2cm border of 'Candy stripe' paper around the outside.

Glue 2cm strips of 'Charmed' paper vertically to the inner left and right of border.

Cut out one of the wave stripes of the 'Tutti Frutti' paper and cut in half. Glue into place next to the 'Charmed 'paper.

Cut a thin border of reverse 'candy Stripe' paper to go on the inside of the first 'Candy Stripe' border. Punch holes around this that match the red stripes. Mount onto yellow card and trim with decorative edge scissors. Glue into place.

Dry brush aqua acrylic paint around the inner of the layout and pink along the bottom directly onto the cardstock.

Cut around photo and glue into place on layout.

Make paper rolls from 'Tutti Frutti' paper and glue into place on layout hiding the join of 'Charmed' and 'Sarsaparilla' paper.

Cut five stars from 'Boston Cooler' paper, mount onto white card and glue into place along the bottom of layout.

Cut circles from 'Sarsaparilla' paper. Arrange in a cluster to the left of layout. Add gem centres. Drag embroidery floss through Matte Accents and glue into place on layout to form 'balloon strings'.

Stamp circle monogram stamp onto white card. Cut out centre circle. Stamp onto coloured card, cut out and glue white circle to centre. Add journaling and glue onto layout.

Add title and decorate Thickers with flat back pearls.